Maximize your marketing potential with our VAS services.
Improve sales and make customers happy with intelligent SMS campaigns. Our services include instant OTPs, voice and SMS notifications, two-way SMS Conversation, Keyword Mapping, voice campaigns, surveys via voice and SMS, and verification using QR codes, long codes, and short codes.
Our state-of-the-art solutions guarantee the best possible outcomes.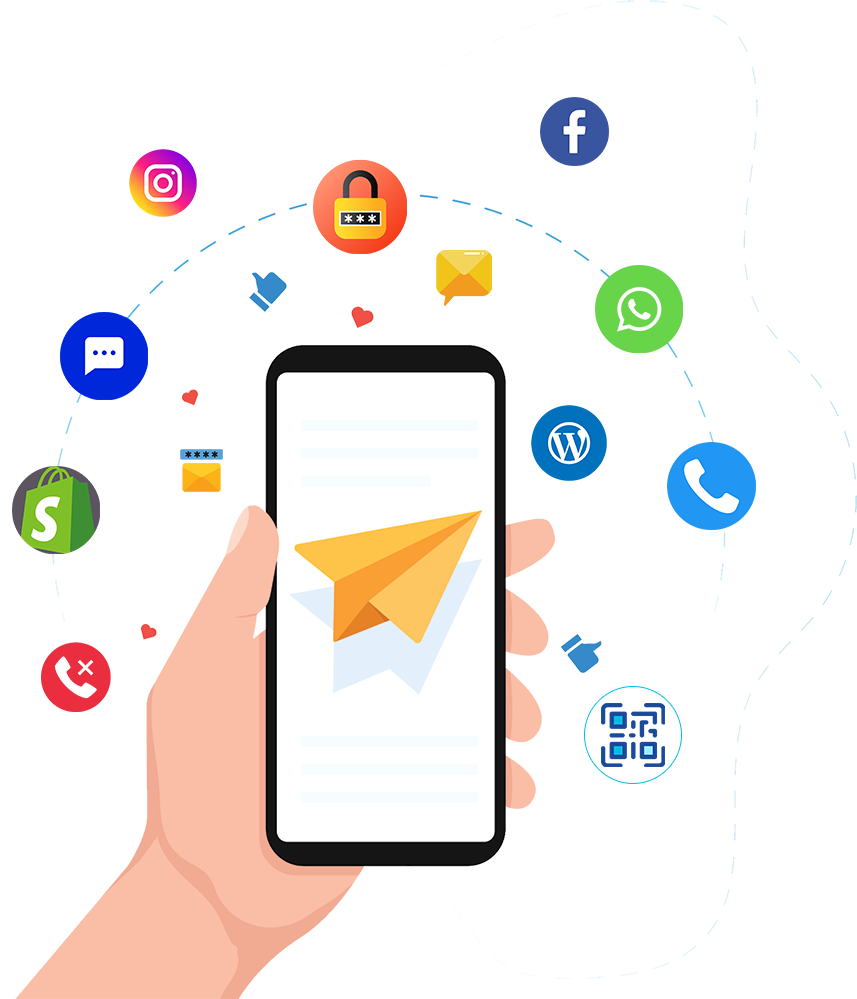 Value added services packed full of features.
Enhance your customer experience and add value to core product, which results in higher sales, better ROI increase in customer satisfaction and loyalty.
One & Two Way SMS
We bridge the gap between businesses and their customers by providing one way and two way sms services that includes OTP, authentication, verification, order confirmation and surveys.
Voice Solution
Voice is the best way to communicate with your customers. It is personal and not limited by the language barrier. Our team is committed to deliver exceptional services as voice OTP, Robocall, Survey Call or Missed Call Campaign.
QR Based Solutions
Being on a digital platform is another sales channel added to strengthen your business. With our insight tools, we analyze your performance in an effective way.
App Development
We specialize in creating cutting-edge mobile apps that are tailored to meet the unique needs of your business.
Web Development
Embrace the digital market that can help you build a strong online presence that is secure, reliable, and fast. Hire us to help you setup a website or an Online shopping store via WordPress & Shopify.
Social Media Management
Optimize your social media presence with better engagement and efficient strategy to reach more audience across multiple platforms.
Facebook/Insta Ad Campaigns
Reach massive audience to boost your social media presence & generate leads with our customized and goal specific ad campaigns.
Our Clients
We are committed to provide excellent services to our clients because we know the importance of understanding their needs and we value what matters most to them. Also, we have the technical expertise, competence and excellence in delivering the needs of our clients.
Build the next generation of applications that connects you to your customers.
Our focus is on creating applications that can keep up with the next generation of digital technology and customer preferences. So our goal is to build applications that can facilitate seamless communication and engagement between businesses and their customers.
SMS OTP
(One Time Password)
A Secure authentication method where a numeric or alphanumeric code is sent to a mobile number.
SMS Activator
Verify your activation account with an SMS.
Transactional SMS
Business to consumer SMS that provides important account information.
SMS Hits Tracker
Tracking the performance of your SMS links.
SMS Authentication
Two-factor authentication (2FA) or multi-factor authentication (MFA) via SMS.
SMS Attachment
Send SMS as an email by attaching a file.
SMS Number Verifier
Verify the identity of the user on your websites, apps or any Business solution.
Bulk SMS
Bridges the gap between you and your audience.
QR Base Data Collection
Collect & Store information digitally.
QR Based Verification
Verify product or person identity.
QR based Catalogue
A marketing collateral that list products & their details that help buyers make a purchase decision.
QR Based Surveys
Get your customer's feedback in a unique & efficient way.
Missed Call
A call deliberately terminated to add user to your database, Call back for verification & more.
Voice OTP
An automated voice message to user's handset to verify a transaction or a login session.
Click a Call
A web based voice communication.
Number Masking Solution
Translate recent activity notifications into any language.
Auto/Robo Calls
Deliver a pre-recorded message to your audience.
Voice Survey
Collect customers feedback via a pre-recorded message.
Voice Polls
Collect customers feedback via a pre-recorded message.
Voice Based Verification
An automated way to fight counterfeit/fraudulent products.
Web development
Let us help you create your next dream project.
Mobile Balance Campaign
Run a campaign where, upon verification, users receive free Mobile Balance instantly.
Retailer Incentive Programs
Award your team members to Boost Sales.
OS Based Content
Platform that can dynamically determine the appropriate URL at runtime based on the user's device, eliminating the need for manual selection.

Radio SMS Revenue Services
Generate an added revenue Stream for your TV/Radio Channel, Ask your customer to SMS and generate another revenue stream.
SMS Keyword Setup
Start Two-Way-SMS, set up a shared short code & conduct polls, voting or receive valuable feedback.
Online Store Setup
Start an online store today in .Net, Wordpress or Shopify.
Email Marketing
A cheap & effective way to reach your customer based.
Unbeatable SMS rates
Swicth to Hassle free, reliable, low cost & High value SMS Service. PTA Service/Masking Charges apply, Separate Charges for Short Code
Prices are exclusive of Govt. tax
Starting at:
Rs. 2.11/-
PER MESSAGE
Exceptional
Voice Call rates
Voice is the best way to communicate with your customers in their language. Voice OTP, Promotional Call, Masked Calls, product Verification, Surveys, Polls & more
Prices are exclusive of Govt. tax
Starting at:
Rs. 1.90/-
PER 30/Sec Call